Use this website on your computer or mobile internet device. Please log in to access your account. If you have forgotten your password, click here to reset.
The meeting scheduler is now open for online profile updates and bookmarking prospects.
Online profile
Please ensure that you have prepared your company and personal profile before meeting booking opens in September:
Log in and click Account at the top right of the page
Click 'edit' under Organisation to update your company/organisation profile
- add your web address, and short profile and logo (optional). Logo image files must be under 1Mb, in the .jpg or .png format.
PRESENTING COMPANIES may add detailed profiles including pipeline image (maximum 15Mb).
Click on your name to update your personal details. These can include a brief profile, a logo and a personal portrait (.jpg or .png, max filesize 1Mb). Change your password and/or email preference here if required.
IMPORTANT:
Remember to click Save after adding information.
You must complete all fields that are labeled with bold text and/or an asterisk*. If you do not, your data may be lost.
No personal contact information will be displayed on this website, nor in any emails it sends out.
The more details you include, the easier it will be for other attendees to find and research your company and request meetings with you.
Bookmarking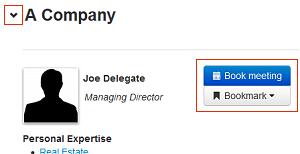 Our Bookmarks feature enables you to build up a list of prospective meeting partners before the meeting booking opens. Browse or search the listings on the Search page. Click the down arrow at the left of the company name to open the full current profile, and click the Bookmark buttons on your preferred profiles. Add notes if desired. Your Bookmark list can be retrieved at any time by clicking the Bookmarks link at the left of the page, under the filter block. Use the Bookmark list to rapidly book meetings once the system is open, or guide your assistant in setting up your meetings.
If you need assistance please check our FAQ guide. If you do not find the answer there please email: tomas@sachsforum.com or contact us on +44 (0)203 463 4890.